Panchet Garh – A village in East Medinipur District, under Patashpur Police Station limit, Egra Subdivision. There are many temples in this village. Here everyone wakes up in the dawn with the sound of Conch, Chant, Bell from temples. You will find a vast edifice at the heart of the village; villagers call it 'Rajbari' (Kings Palace). In and around the 'Rajbari' you will find a number of temples built by Chowdhury-Das-Mahapatra's. South-Indian styled 'Pancha-Siva Temple', Orissa Ratha-Daul (Chariot-Temple) styled 'Radha-Krishna' temple. Sitala-Debi's Pancha-Ratna Temple built of Jor-Bangla style. There are many other temples like Chaitanya-Maha-Prabhu temple, Ras-Mancha, Jhulan Mandir – So, you can say it's a Village of Temples.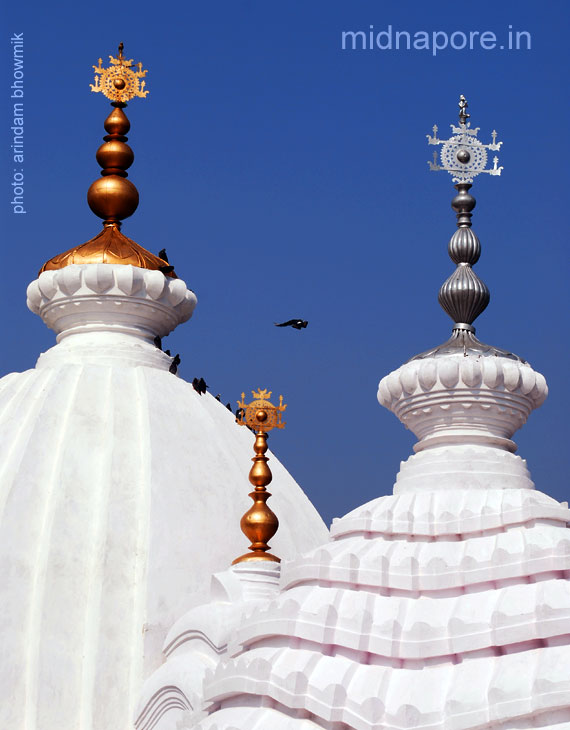 Orissa Ratha-Daul (Chariot-Temple) styled 'Radha-Krishna' temple, Panchet Garh, East Medinipur.
| | |
| --- | --- |
| | From historical facts we find that Murarimohan Das Mohapatra of Athgarh (Atha Garh) in Orissa, an employee of Emperor Aurangazeb, was rewarded for his services by a territory grant and asked to set up an establishment at Patashpur Pargana. In search of a place from where they can control their Estate they found a very old Shiva Temple inside the forest. Das-Mahapatra's were followers of lord Shiva; they reconstructed the old Shiva temple (now Pancha-Shiva Temple) and elected the region for their administrative head quarter. Under Murarimohan Das Mohapatra's supervision PanchetGarh was born. Some of his descendants still reside at Panchet Garh. After the fall of the Mughals the region conceded to the the Nawabs of Murshidabad. Later after invasion of the area by Marhattas, the Zamidari's control was vested with the Court of the Holkars of Indore. A myth says that one of their ancestors traveled all the way to Indore and presented himself before Queen Ahallya Bai Holkar, after which the family got back the Jagirdari. |
The name Panchet came from Pancha-Shiva or Pancha-Ishta (Pancha – Five, Ishta - God), Panchet was bordered by a huge Garh-Khai (Mote). So, the name is PanchetGarh.
PanchetGarh was very well planned by Chowdhury-Das-Mahapatra's – There are four villages outside the Garh (Fort). In the past they use to call village as 'Sai' – Kumar-Sai, Rangni-Sai, Gour-Sai etc. These village names were chosen by villager's profession. But, now village names are different Pub-Para (East), Dakshin-Para (South), Uttar-Para (North), Paschim-Para (West) depending on their direction.

South-Indian styled 'Pancha-Siva Temple' , Panchet Garh, East Medinipur. Photo: Arindam Bhowmik
PanchetGarh was a center point for Education & Culture in Undivided Medinipur District. 'Chowdhury Jadabendra Nandan Das Mahapatra' was a notable persona of this family. He was very affectionate to Classical Music; he was the first Bengali student of Ustad Ujir Khan. PachetGarh became a very famous learning center of music under Jadabendra Nandan's administration. During his education in Calcutta University he was inspired by Stage Theatre, after his education he made a permanent stage for theater in PanchetGarh. Chowdhury family established school in PochetGarh when there was only one more school in undivided Contai Subdivision.