A brief description of the musicians
came to Panchetgarh:
Abdullah Khan : Abdullah Khan was the Court Musician of Darbhanga and Dacca. He was born in the year 1849 and expired in the year 1928.
Kanailal dheri : It is kanailal dheri of Gaya who is still regarded as one of the greatest Esraj player of all time. Popular even till the last century, it is sad yet true that esraj is slowly fading away. a celebrated musical instrument in bengal at one time
Chandrikaprasad Dube & Halkeram Bhat : Sarangi and Esraj maestros Halkeram Bhat (Maihar gharana) and Chandrikaprasad Dube (Gaya gharana)
Kashinath Mishra : Tabla Player Pandit Kashinath Mishra is a famous name associated with Indian Classical Music.
Gyanendra Prasad Goswami : Well, the truth is that Gyanendra Prasad Goswami was not that involved with classical music. He did not sing Dhrupad, Dhamar and Khayal as much, and therefore is somewhat removed from the gharana. His uncle, Radhika Prasad Goswami was a classical musician of Bishnupur Gharana. But Gyanendra Prasad Goswami, although he had studied everything, was better known for Ragashray Bangla Gaan. He had an incredibly beautiful voice that together with his command of Ragashray Bangla Gaan created a somewhat different stream of music from the classical Bishnupur Gharana. Further Gyanendra Prasad had taken talim from Ustad Faiyaz Khan, and as a result had veered somewhat towards the Agra Gharana.

Fakir Baksh : Fakir Baksh, disciple of Saddu Hussain Baksh Punjab Gharana . His followers were Qadir Baksh II and Firoz Khan of Lahore. Jnan Prakash Ghosh of Farukhabad gharana was also a follower of Firoz Khan.
Jadu Bhatta : Jadu Bhatta is a genius of Indian Classical Music (Dhrupad Music,Bishnupur Gharana). He was known for 'Khanderbani' dhrupad music. Jadunath raised this music to a higher level and made it well known throughout India. He expired at the age of 43.
Palanka (Decorated Bed) – Four corners (Legs) of this Palanka has been decorated as four armed guards. - Mr. Pinaki Nandan Das Mahapatra is the present owner of this palanka. From his early days he always kept distance from this Palanka as he used to fear these 4 guards as well as the then owner (his father) of this Palanka very much. He never gets an opportunity to use this Palanka from his childhood. But, after his father passed away it was his turn to use the Palanka. Yes, he tried few times to use the Palanka, but he could not sleep well. Guess why? Because of those four guards, every night they used to come in his dreams. So, he decided to use the Palanka for guests. Naturally if you go there as his guest, you will may get an opportunity to rest on it, as I got. Unfortunately those 4 guards never came to my dreams; it seems they only love Mr. Pinaki Nandan Das Mahapatra.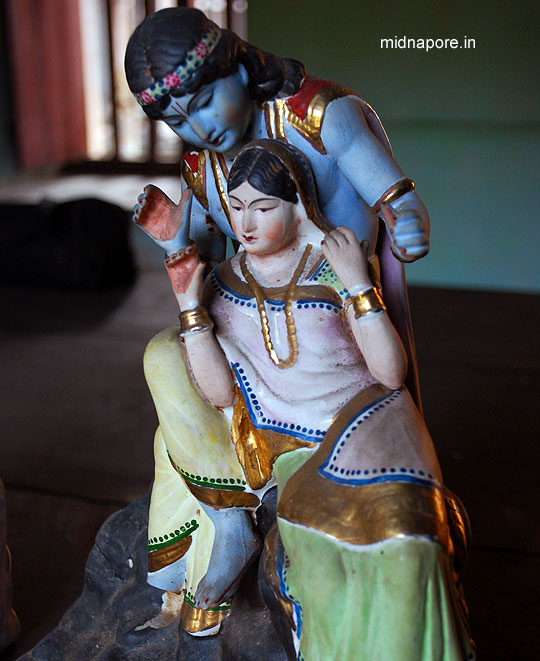 Look, very carefully at the facial formation of this idol – it looks more European then Indian (but this idol is of Indian deity) . You know why? Because, these idols are made in Germany as there was no manufacturing center in India to produce porcelain products during that period. People used to send (to Germany) photographs of the idol they want to be made of porcelain and the result is, we have European Krishna, Lakshmi, Durga.