Neck

Their necks were short and muscular, standing on broad shoulders.
Hand and Foot
The hands and arms were long, almost reaching to the knees; being muscular and well built, the arms and hands spoke of strength and agility. In proportion to the length of the arm, the hands, from wrist to the forefingers, were longer than is normal in human beings. But they were human hands, pure and simple.
The elbow joints and wrists were also big, heavy, flexible, and powerful.
Nails
The nails of the hand and foot were worn on the inside to a concave shape. This was due to scratching the ground with the fingers; the concavity of the toenails was due to sauntering on the ground while going on their knees, although they generally went on all fours.
Their feet were of a peculiar shape. The fingers and the toes were extended and lying flat on the ground, but were somewhat crooked, being bent up in an angle. The two great toes were longer than is generally found among humans and were somewhat crooked, making an angle when placed flat on the ground. They were not crooked sideways, but the angle stood, like a tent, upwards, as shown by the sketch:
The toes were connected to a comparatively thin sole and foot, ending in a flattened heel, holding up a big ball-like ankle joint. The knee joints were proportionately big, heavy, and strong.
Hips and Waists
The hips were flattened to the waist and were not at all fleshy. Their waists were slender and flexible from side to side, being well built, and in straight line with the spine.
Head
Their heads were elongated, slender, bony, and drawn upwards. From the front the eyes appeared to be set in two hollows. The thin, long nose, ending in two big nostrils, descended to a pair of lips thick and long. The chin hung to a point underneath.
Body

The build of the body spoke of strength and agility.
.......................................................................................................................................................................................................................................................................................................................................................................................................................................................................................

Kamala's mode of eating by lapping food
The Mode of Eating — November 15, 1920
They used to eat or drink like dogs from the plate, lowering their mouths down to the plate. Solid food, such as rice, meat, etc., was eaten in this way, not with the hand. Liquid food, such as water or milk, they used to lap like puppies. This was noticed first on the fifteenth of November, 1920, when they could sit a little and crawl about a little, before they were wholly cured of the sores.

Standing on knees to reach the utensil containing milk
November 19, 1920
When they were hungry they would come smelling to the place where food was kept and sit there. This was noticed on the above date. They would sit there for some time, and if they did not get any food, they would go and come again immediately. This they repeated till they got something to eat or drink.
December 7, 1920

When they got better, they would stand on their knees and try to reach the utensil which contained the food or drink. This was noticed on the above date as soon as they got stronger.
February 2, 1921
Afterwards, when they got a bit tame and somewhat familiar with my wife, they used to come to her, not close to her, but in the same room where she happened to be, till they were given food or drink by her. This was noticed on the second of February, 1921.
February 5, 1921
The least smell of food or meat anywhere, even a dead animal or a bird, would bring them to the spot at once. They would at once make for the place and pounce upon it, and then devour it, not permitting anyone to obstruct them. They showed great rage, and would not part with it. If the food was caught hold of or snatched away, they would take a good bite out of it, a mouthful at any rate. This behavior was noticed on the above date.
Mrs. Singh happened to be their nurse, and she used to feed them during illness and afterwards. Naturally they would expect food from her. This knowledge and the fulfillment of their expectation every time led them to have some sort of attachment later on.
When they were thirsty the younger one made a peculiar noise, "Bhoo, Bhoo," and Mrs. Singh understood that she wanted water; but Kamala would lick her lips with her tongue in a peculiar fashion as if her lips were getting dry, and she knew that Kamala was thirsty.
December 12, 1920
It was first noticed on this date that Kamala did not make any noise like Amala while thirsty. They did not care for water much as drink, but always preferred milk.
Mode of Walking and Running
Kamala and Amala could not walk like humans. They went on all fours: head erect on the broad shoulders, the body straight, resting on the hip joints; the thigh making an obtuse angle with the leg at the knee and the leg resting on the raised heel; and the front part of the foot resting on the ground with the toes spread out to support the whole weight of the body. The front part of the body rested on the straightened hand, supported by the spread-out palm and fingers on the ground.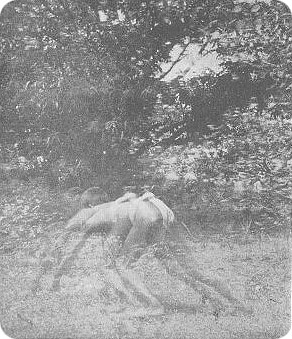 Mode when running very fast
Mode when running very fast
There was a constant jerk as they moved in this fashion, the risings and the sinkings, first the head and then the waist, as they moved along whether slowly or quickly.
Besides, when they moved slowly, generally they went on hands and knees, but could not run fast. On all fours, they could run very fast, and it was really a task to overtake them.
Mode of Sleeping
Both Kamala and Amala used to sleep like little pigs or dog pups, overlapping one another. When they laid themselves down on the ground, they usually slept crouching, their hands and feet together, whether sitting or reclining. They were light sleepers; the least noise startled them. They never slept after midnight and used to love to prowl at night fearlessly,unlike human children of that age.
February 19, 1921
They were seen restlessly patrolling the court yard, incessantly trying to find an opening to give them a passage out.
Feeling of Cold or Heat
The perception of cold or heat was unknown to them. In cold in winter we used to make them wear clothing, but they resented it very much and used to tear it to pieces as soon as they were left alone. We tried to cover them up with blankets at night, but they threw them away, and if repeated, they used to tear them off. They did not feel cold at all, and used to love to be without any covering or clothing on their body, even in the coldest weather. They were never seen shivering in the most chilly season, nor perspiring in the hottest day or night.
Loin Cloth Stitched on — November 10, 1920
We were compelled to permit them to be naked all the while, except a loin cloth stitched behind them in such a fashion that they could not open it out. They unwillingly kept it on because they could not open it, but they resented it very much at first. They were seen always busy with it trying to set themselves free from it.
When we used to present them before visitors, we would always throw a loose garment, such as a loose frock, on them and bring them out into the drawing room.
During the hottest summer day, on the fifteenth of June, 1920, and afterwards whenever they felt warm, they used to choose a cold corner in the room and occupy it all the while during the day. When all others used to be wet with perspiration, they used to be as dry as ever. Even in hot summer when we would be drinking much water to satisfy our thirst, they did not become thirsty at all. They used to drink the same quantity of water or milk in summer as in winter. Their chief drink was milk, and not so much of water. In summer their body used to be cold and pleasant to feel. The surface of their bodies was very smooth and even, and very soft. It was not at all rough or hard, nor was it at all greasy or oily, and was free from any dirt.
They used to come out with us naked, except the loin cloth, in the bitter cold morning in winter, and never shivered or showed any sign of feeling cold.
Fire they knew and would not go near it. They did not like it, and were rather afraid to see the flame or the crimson scorching glow of coals that are alive, diffusing warmth to the surroundings. They ran into the shade behind the bushes and shrubs where there was no light at all.
This behavior was repeatedly seen on the twenty-fourth and thirty-first of December, 1921, and on the first of January, 1922.
.......................................................................................................................................................................................................................................................................................................................................................................................................................................................................................
Vision and Darkness
They were fond of darkness, and all the year round liked to be in the darkest place in their dormitory. As I said before, they would turn their face towards the corner and would remain musing for hours together like philosophers contemplating a great problem, never caring for the things around them. They would not leave that corner till it was dusk. We used to take them out to their dining room. Besides this, whenever they used to feel hungry, they used to come out themselves for a short time to the place where they came to know that food was kept. They could not bear much sunshine. If kept in the sun for a short time, they would commence panting, or breathing harder and harder, and would try to run into their selected dark corner.
March 15, 1921
Their inability to bear the sun was noticed on the fifteenth of March, 1921.
It was also noticed that they could not see well during the day when the hot sun was shining. They could not open their eyes fully, and would be opening and closing their eyes quickly and often. If we insisted on keeping them in the sun, they used to close their eyes and try to run away from the sun as quickly as they could. An experiment was made on March 2, 1921, at about one o'clock. Bones were placed in front of them one after the other. They smelled them all right, but could not find the bones as easily as they could in a shady place, or at night.
At night they wanted to be out, and if possible to be out in the open field, or in the jungle. As I said before, they could see far better at night, and a blue glare focused on things or animals.
Light also used to frighten them at the very beginning. The first few days I took charge of them, and also at the Orphanage for a few days after their admission into it, they used to try to hide themselves whenever a hurricane lantern was brought in the room.

Scratching at the door to get out when restless to go out
October 23, 1920
The first time I noticed their fear of light was on the night of the above date. I could not even light a match in their presence. Though they were weak and could not move, yet they showed signs of fear in their appearance and the little they could express in their features.
Scratching at the door to get out when restless to go out
Bright scenery, like red-colored sky just before dusk, they loved. At 5:30 p.m. they showed signs of restlessness to come out in the open. The only thing they wanted was to be left all by themselves. This was noticed the first day they could crawl out.
December 2, 1920
On this date they first crawled out after their sores were almost healed.
After sunrise they would not like to be out in the open; they must try and hide themselves. If not in the room, they must find some creek or corner; and if they happened to be in the field, they would seek for some bush or shrub close by. This was seen the first day I and Mrs. Singh took them out to the field early in the morning, when it was still dark at four o'clock, on December 4, 1920.
Calls of Nature
Calls of nature were a problem at first. The children used to pass urine or have bowel movements anywhere, and at any time. We did not know the time, and they also did it whenever they felt the calls. We commenced taking them out at regular times in the morning, noon, and evening, to create in them a habit of serving the calls of nature outside the house, or in the courtyard of the house. It was found later on that when they were not taken out they used to answer them inside the room, or wherever they were at the time. How then, I thought, could they keep their cave so neat and clean?
Regarding the cleanliness of their cave, I presumed that the whole night they used to prowl about outside the cave and used to finish everything during that period, and came back in the cave to rest the whole day there. It is also presumed that the cubs and the children also, when they were babies and could not go out with the wolves, served the calls of nature inside the cave, and the mother wolf used to lick the droppings up and take out the bones, etc., after they had eaten. So nothing remained in the cave. This presumption of ours is verified in the case of cats and dogs in our house. So it naturally follows that the wolves did the same thing to keep the cave clean and tidy.
We found out that they had no idea of wiping themselves. To clean themselves they used to rub their parts on the ground, having a motion just as cats and dogs do. We compelled them to have a wash, and Mrs. Singh used to attend to them each time, when we returned from our rounds on the fields. This washing they resented very much. They never liked water and did not like to approach it for washing.
January 31, 1921
They were noticed lapping water from a stream when they were thirsty, but when they understood that they were being taken for a wash, they used to resent it very much, and used to struggle to free themselves, with the intention of not having to wash. After being forced several times, gradually they came round, although it took time. They unwillingly permitted us to wash them, in the same manner as a dog or a cat permits a bath.