Jhargram Town:

Jhargram is the paradise of nature lovers with bountiful forests of sal, mahul, wild elephants, deer and birds. The ancient temples, royal palaces, folk tunes and rhythms of tribal make it all the more attractive destination of tourists who love to discover the unknown and unaffected beauties of nature.

Alampur:

The first Shah Alam was the son of Aurangzeb and was entitled Bahadur Shah. He was crowned as the Nawab of Bengal. While traveling through his states he visited Chilkigarh. Now Chilkigarh lies in Jambani Block of Jhargram. It is said that the present Alampur village at Chilkigarh is designated in the name Shah Alam. The then Zaminder of Alampur had constructed the twin idols of Radha Krishna, he had named it as Madan Mohan. The celebration of Doljatra and Raashmela is a gala event in the village of Alampur.
Chilkigarh Raj Palace and Kanak Durga Temple: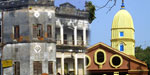 A distance of 12 Kms from Jhargram. Between the Raj Palace and Kanak Durga Temple flows the Dulung river. The Kanak Durga Temple lies in the south direction. Many different types of trees and plants of various species surrounds the temple. These trees draw attention from different places for research. A typical species of monkeys live here.
Deer Park:

It is about 3 Kms from Jhargram town. A jungle makes a little Zoo in this area. You can find many different types of wild animals and birds here. Now Jhargram Mini Zoo is called Deer Park.
Jhargram Raj Palace:

The tourists can visit this place and it also has accomodation for tourists with prior booking. The Raj Palace is behind the main gate. In front is the towering Palace. On the tower is a painter's fine painting. With the end of Rajtantra it had marked the end of an epic. The heriditary of this palace is Radha Krishna temple of Shiva is there.
Jungle Mahal:

From Jhargram in the south is Jungle Mahal. It is in Salboni between Jhargram and Lodhasuli. A garden can be seen with roses. A few snakes and other animals attracts tourists. It also provides accomodation at affordable rates for the tourists with prior booking.
Kendua:

It is situted in between Chilkigarh and Jhargram. Thousands of migrating birds flock comes here. They live for couple of months where they hatch their eggs and fly away.
Sabitri Temple:

Devi Sabitri and Jhargram as an old fact. It is said that Jhargram princely ancestors made this place in the middle of 17th century. No idols are kept here but a stone recembling Devi Sabitri.
Deer Park

Laljal Cave

Radharaman Mandir

Sabitri Mandir

Raj Bari

Kechenda Lake

Kalabani Road

Gadrasini

Ghagra

Jhilimili

Kankrajhor
Where to Stay :

Aranya Sundari Guest House Sibasis Chatterjee
Jail Khana More, Ghoradhara
Jhargram, Paschim Medinipur
Ph: 03221-256872

Fooding, Color T.V., Car Parking,
Generator, Tour Packages
Banani Atithi Nibas
Gopal Chandra Sarkar
(Lease Holder)
Kadam Kanan, Jhargram
Paschim Medinipur
Ph: 03221-257945

Fooding, Color T.V., Car Parking,
Generator, Tour Packages
Doolung Guest House
Arindam Acharya
Ghoradhara, Jhargram
Paschim Medinipur
Ph: 03221-255909
Palace Tourist Resort
M/S Hotel Malladeb Pvt. Ltd.
Old Jhargram, Jhargram
Paschim Medinipur
Ph: 03221-255401
Kolkata Booking
W.B.T.D.C.
"Tourism Point",
3/2, B.B.D. (E), Kolkata - 1 Ph: 033-22437260, 22485917
Fooding, Color T.V., Car Parking,
Generator, Tour Packages
AC Bar